For many men, the process of cutting stubble has become a daily ritual, without which it is difficult to imagine usual morning. And since most modern guys prefer shaving razors, so they need to use special cosmetics: shaving gel, shaving cream, shaving soap or shaving foam. Therefore, today at Rafael's Barbershop Blog we will look at the 2 most popular options of men's shaving cosmetic products: shaving gel and foam.
Men's shaving gel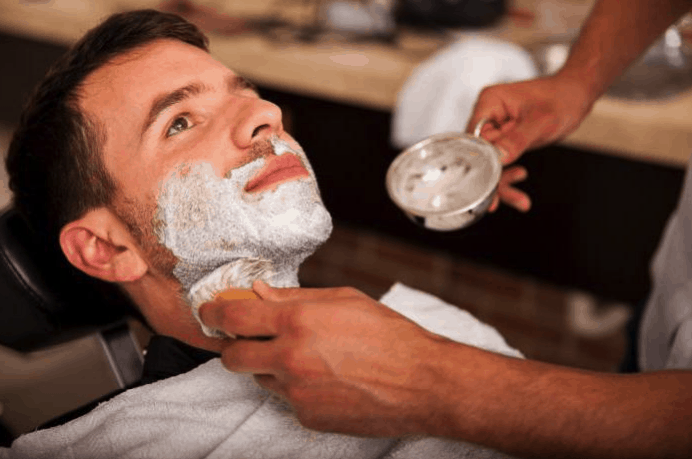 The basis of most of the shaving gels consists of alcoholic components and additional active ingredients that deeply moisturize and soften the skin and hair, providing a slip of the blades and easy removal of bristles.
Men's shaving gels for sensitive skin in most cases do not contain alcohols, replacing them with soft natural antiseptics.
Also included in the shaving gels may include additional components:
silicone;
menthol;
chamomile extract;
aloe juice;
vegetable oils;
water.
Caution! Often shaving gels come in different colors, which means that they contain dyes.
Shaving foam for men
In fact, the structure of shaving foams and gels is almost identical. Most of the shaving foams include the following components:
alcohol for skin disinfection;
glycerin to moisturize the skin of the face;
aromatic fragrances;
ingredients that moisturize the skin and hairs.
If we are talking about hypoallergenic shaving foam for men, then alcohol components are excluded. Instead, some tonic components of natural origin are added to the shaving foam.
Shaving gel VS shaving foam: conclusion
Shaving foam will be an excellent choice if you need to shave large areas of the body and long hair, and shaving gel will cope well with thick, short stubble.
Foam is simple and easy to use, while using shaving gel will take more time and effort.
Shaving foams are much cheaper, but shaving gels will last you longer.
As you can see, both of this products have their advantages and disadvantages, the choice is yours!