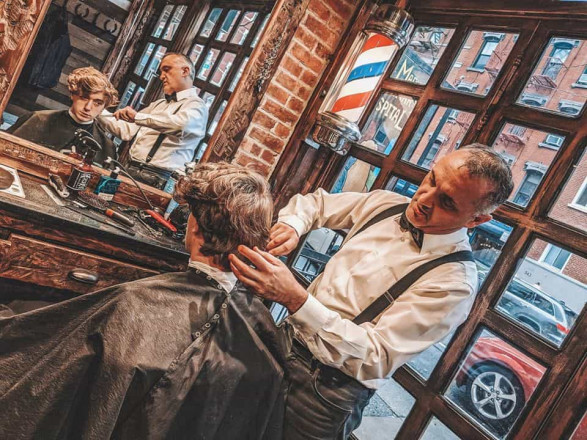 Offer valid for walk-ins customers only
For regular haircut
plus get a FREE neck shave & shoulder massage.
for first customers only
Best Barbershop in New York City!
Need a great haircut? You cannot trust just any barber to cut your hair.
At Rafael's Barbershop, we provide the ultimate haircut experience and can provide haircuts that are truly special.
From the moment our clients walk in the door, they realize providing excellent customer service and amazing haircuts are our main goal. From old school haircuts to the most popular current haircut styles, our barbers create haircuts that enhance people's appearance and get them noticed over and over again. Visit us today for the ultimate haircut experience.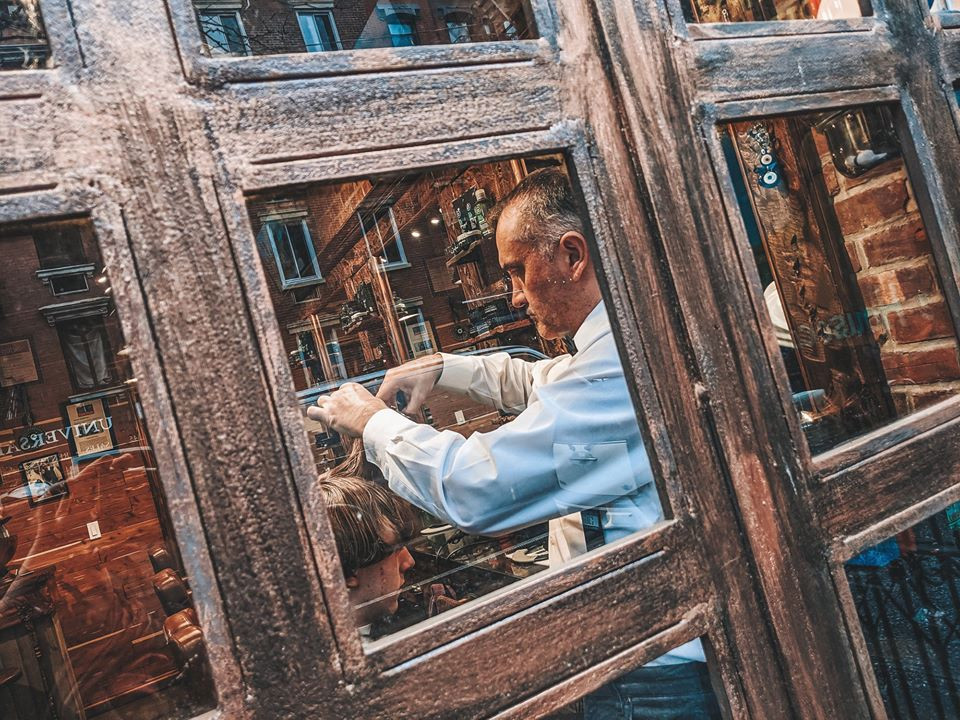 Rafael's barbershop – the best in New York City
For many years, our establishment has been working to ensure that you receive the highest quality haircuts from the best barbers NYC barbershop at the best prices. Our team of professionals led by Rafael is constantly being improved and gets a new experience in order to please his guests with fashionable and original hairstyles. We are not afraid to try new methods and experiment, as we are sure that a cool and modern barbershop should be aware of all the fashionable novelties and news.
If you want to get the perfect haircut from the best barber NYC barbershop – we are waiting for you to visit Rafael and his masters. First-class services, reasonable prices, friendly staff, good music, free drinks and a friendly atmosphere are guaranteed by Rafael's barbershop. Come and see for yourself!
Manly interior for real men
Since ancient times, barbershop is considered to be one of the favorite meeting places of guys. Here you can always relax and unwind, forgetting for a while about these problems. Or vice versa, discuss your troubles with like-minded people and just speak about it if you need it. Your best barber NYC barbershop will always listen and support you. And if necessary, help practical advice.
Individual approach to each client
We are sincerely convinced that true professionalism is not only technical skills (although every best barber NYC barbershop must possess them), but also a creative approach. Barber should not only be able to cut hair nicely, but also choose the client's hair / beard shape based on various factors: facial outlines, hair and skin type, lifestyle and clothing preferences. In Rafael's barbershop you will find a stylish hairstyle that will not just look cool, but will become the "icing on the cake" and complement your look, making it perfect. Also, our barbers will help you with the choice of high-quality products so that you always look neat and stylish.
Finding our New York barbershop is now even easier
In the modern world, technology and communications play one of the most important roles in our life. And this is wonderful, because thanks to the Internet it becomes more convenient to communicate, and to find the necessary places even faster. Therefore, we try to be as close as possible to our guest, so that everyone can find us or ask a question at any time. You can learn more about Rafael's barbershop from social networks like:
Facebook;
Twitter;
Instagram;
Google +;
Yelp;
Foursquare;
YouTube;
Google Place.
It is important for us to know your opinion about us, so we are looking forward to your reviews!
What services you will find in our barbershop
In the modern market, the competition is quite large and each salon tries to come up with some particular feature to be remembered and loved by the guest, but there is still a standard list of services that are certainly present in every barbershop:
Haircut;
Cut of beard and mustache;
Shave a straight razor.
In addition to all of the above, you can also get to Rafael's barbershop:
Face and head massage (with hot towel or classic);
Crew cut;
Color.
And that's not all. More information you can found on the services page.
With us, it is not only reliable, but also interesting
On our site you will read a lot of information about us and our barbershop. Also here you will find various articles from which you will learn many useful things about caring for your appearance, fashion trends of the coming season, positive and negative aspects of various processes, etc. Go to the Blog and read the latest articles about New York barbershop and more.
Welcome to our barbershop – your ultimate grooming destination!
Looking for a top-notch barbershop near you? You've come to the right place! At our barbershop, we take pride in offering a premium grooming experience that leaves you looking and feeling your best. Our skilled barbers are dedicated to delivering precision haircuts, classic shaves, and a warm, welcoming atmosphere you'll love. When you search for "barbershop near me," look no further, as we're here to serve your grooming needs with excellence.
Why choose our barbershop?
Experienced barbers: our team consists of experienced barbers who are passionate about their craft. They are skilled in a wide range of styles, from timeless classics to modern trends.
Customized services: we understand that every client is unique, which is why we offer personalized services tailored to your preferences. You'll leave our shop with a haircut that complements your style and personality.
Classic shaves: indulge in the traditional art of wet shaving. Our barbers use high-quality products and techniques to provide you with the smoothest and most comfortable shave you've ever had.
Relaxing atmosphere: our barbershop provides a relaxing environment where you can unwind while getting groomed. Enjoy a complimentary beverage and unwind while we work our magic.
Quality products: we use only the finest grooming products to ensure the best results. from top-notch hair care products to premium aftershaves, your experience will be nothing short of exceptional.
Finding us is easy!
We understand the importance of convenience when searching for a "barbershop near me." Our shop is conveniently located in the heart of Manhattan, making it easy for you to drop in anytime. We're just a short drive or walk away, ensuring you can fit a grooming session into your busy schedule without hassle.
Our commitment to safety
Your health and safety are our top priorities. Rest assured that we follow strict cleanliness and hygiene protocols, ensuring a clean and sanitized environment. Our barbers are fully trained in the latest safety measures, providing you with peace of mind during your visit.
Barbershop services
At Rafael's Barbershop Vintage, we offer a wide range of services to meet all your grooming needs. Our services include, but are not limited to:
haircuts for men, women, and children;
beard trims and shaping;
hot towel shaves;
hair coloring;

styling and design;

and much more!
Book your appointment
To ensure that you receive the attention you deserve, we recommend booking an appointment in advance. You can easily schedule your visit through our website or by giving us a call. Walk-ins are also welcome, depending on availability.
Visit our barbershop today
When you're searching for a "barbershop near me," remember that Rafael's Barbershop Vintage is here to serve you. Our commitment to excellence, experienced barbers, and welcoming environment make us the perfect choice for all your grooming needs. Stop by today and experience the difference for yourself. We can't wait to make you look and feel your best!
Reviews
Been going here for some time now and they are great. Rafael is an awesome guy and really knows what he is doing. He's always friendly and tells you how to take care of your hear after your cut. Highly recommend this place to everyone!
I have the utmost respect for Rafael's attention to detail. I've only been here two times, but I'm definitely coming back. Not only will he do what you ask, he'll recommend a style for you - one that might surprise you at first - but he always knows what he's doing. Trust him.
If you want to spend $70+ for a PBR and a dude who looks like he is out of the 1940's to cut your hair, keep walking. Make a reservation here for Rafael to cut your hair and you will never look back. $16 and thirty minutes of attentive haircutting satisfaction. He is the best barber in Manhattan.
Your barbershop is the best in the city. Everyone here is really cool, and the barbers are all great. I liked the service, and the good environment. Will be back next week for another haircut and shave.
The barbers at your barbershop are great people. They are not just good barbers. Every barber takes the time to talk to each customer and does not rush the haircut.
GREAT cut, better prices!! I drive 15 miles to get the best cut for me.
Best Barbers in town. I've been going for years with my 4 son's.. Great service and wonderful owners. Fades to dreds!!!
I've been going to Rafael's for years. Excellent barbers. I would not go anywhere else!
This is a good barbershop. Nice Atmosphere. Everyone is nice, but Eduardo is the Best.
They always give my son a good cut. Each barber has their own talent
Howard does the best scissor cutting in the state
Great haircut. First time there and the guy gave me a great fade and a sharp shape up.
Rafael is a true gentleman. He understands how to personalize your haircut to your type of hair and is extremely precise in his technique. I've been to salons where I spend over a hundred dollars and they couldn't give me what Rafael did. I cannot speak highly enough of him.
Friendly and enjoyed my haircut, I would go back again.
Simon is my barber every time and it is a unique and wonderful experience when I go. It is my favorite barbershop and I love coming here! Highly recommend!!!
I've been coming here for a year and a half and it's the best haircut I've had. It consistently looks good and often I can schedule just a day or two in advance.
My regular place. Best cuts of my life. And very affordable on top of that.
Price List
Haircut Services
Long hair cut or scissor cut
$45-70
Razor Services
Beard trim & shape-up
$25
Beard trim, shape up & shave
$55
Signature shave & face massage
$49
Shape-up & clean-up (for hairline)
$21
FAQ
Where can i find barbershop in Manhattan

If you want to get the perfect haircut from the best NYC barbershop – we are waiting for you to visit Rafael's barbershop at 350 E 9TH ST, New York, NY 10003
What are the prices for a haircut?

Haircuts start at $33 and go up from there for regular mens haircut
How do i book an appointment?