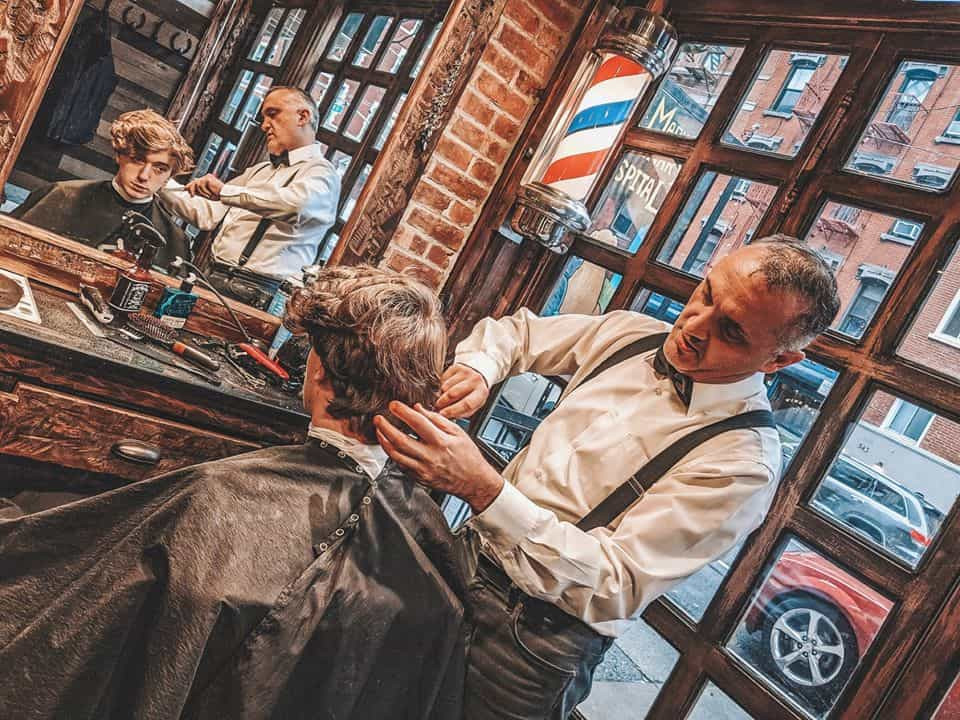 Offer valid for walk-ins customers only
For regular haircut
plus get a FREE neck shave & shoulder massage.
for first customers only
Best Barbershop in New York City!
Need a great haircut? You cannot trust just any barber to cut your hair.
At Rafael's Barbershop, we provide the ultimate haircut experience and can provide haircuts that are truly special.
From the moment our clients walk in the door, they realize providing excellent customer service and amazing haircuts are our main goal. From old school haircuts to the most popular current haircut styles, our barbers create haircuts that enhance people's appearance and get them noticed over and over again. Visit us today for the ultimate haircut experience.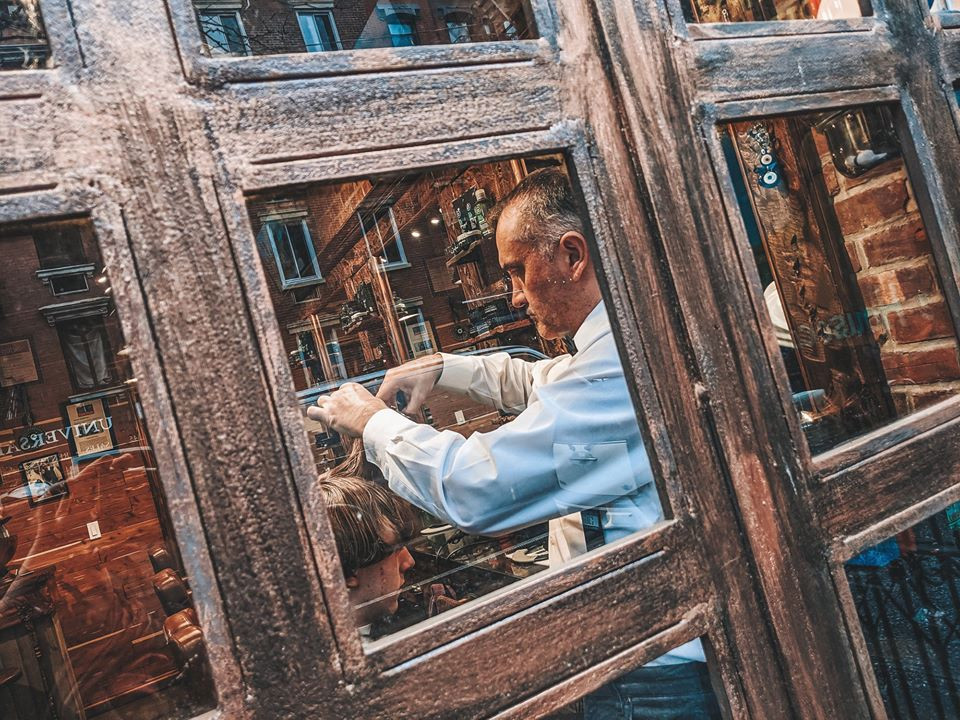 Rafael's barbershop – the best in New York City
For many years, our establishment has been working to ensure that you receive the highest quality haircuts from the best barbers NYC barbershop at the best prices. Our team of professionals led by Rafael is constantly being improved and gets a new experience in order to please his guests with fashionable and original hairstyles. We are not afraid to try new methods and experiment, as we are sure that a cool and modern barbershop should be aware of all the fashionable novelties and news.
If you want to get the perfect haircut from the best barber NYC barbershop – we are waiting for you to visit Rafael and his masters. First-class services, reasonable prices, friendly staff, good music, free drinks and a friendly atmosphere are guaranteed by Rafael's barbershop. Come and see for yourself!
Manly interior for real men
Since ancient times, barbershop is considered to be one of the favorite meeting places of guys. Here you can always relax and unwind, forgetting for a while about these problems. Or vice versa, discuss your troubles with like-minded people and just speak about it if you need it. Your best barber NYC barbershop will always listen and support you. And if necessary, help practical advice.
Individual approach to each client
We are sincerely convinced that true professionalism is not only technical skills (although every best barber NYC barbershop must possess them), but also a creative approach. Barber should not only be able to cut hair nicely, but also choose the client's hair / beard shape based on various factors: facial outlines, hair and skin type, lifestyle and clothing preferences. In Rafael's barbershop you will find a stylish hairstyle that will not just look cool, but will become the "icing on the cake" and complement your look, making it perfect. Also, our barbers will help you with the choice of high-quality products so that you always look neat and stylish.
Finding our New York barbershop is now even easier
In the modern world, technology and communications play one of the most important roles in our life. And this is wonderful, because thanks to the Internet it becomes more convenient to communicate, and to find the necessary places even faster. Therefore, we try to be as close as possible to our guest, so that everyone can find us or ask a question at any time. You can learn more about Rafael's barbershop from social networks like:
Facebook;
Twitter;
Instagram;
Google +;
Yelp;
Foursquare;
YouTube;
Google Place.
It is important for us to know your opinion about us, so we are looking forward to your reviews!
What services you will find in our barbershop
In the modern market, the competition is quite large and each salon tries to come up with some particular feature to be remembered and loved by the guest, but there is still a standard list of services that are certainly present in every barbershop:
Haircut;
Cut of beard and mustache;
Shave a straight razor.
In addition to all of the above, you can also get to Rafael's barbershop:
Face and head massage (with hot towel or classic);
Crew cut;
Color.
And that's not all. More information you can found on the services page.
With us, it is not only reliable, but also interesting
On our site you will read a lot of information about us and our barbershop. Also here you will find various articles from which you will learn many useful things about caring for your appearance, fashion trends of the coming season, positive and negative aspects of various processes, etc. Go to the Blog and read the latest articles about New York barbershop and more.
Reviews
Been going here for some time now and they are great. Rafael is an awesome guy and really knows what he is doing. He's always friendly and tells you how to take care of your hear after your cut. Highly recommend this place to everyone!
I have the utmost respect for Rafael's attention to detail. I've only been here two times, but I'm definitely coming back. Not only will he do what you ask, he'll recommend a style for you - one that might surprise you at first - but he always knows what he's doing. Trust him.
If you want to spend $70+ for a PBR and a dude who looks like he is out of the 1940's to cut your hair, keep walking. Make a reservation here for Rafael to cut your hair and you will never look back. $16 and thirty minutes of attentive haircutting satisfaction. He is the best barber in Manhattan.
Your barbershop is the best in the city. Everyone here is really cool, and the barbers are all great. I liked the service, and the good environment. Will be back next week for another haircut and shave.
The barbers at your barbershop are great people. They are not just good barbers. Every barber takes the time to talk to each customer and does not rush the haircut.
GREAT cut, better prices!! I drive 15 miles to get the best cut for me.
Best Barbers in town. I've been going for years with my 4 son's.. Great service and wonderful owners. Fades to dreds!!!
I've been going to Rafael's for years. Excellent barbers. I would not go anywhere else!
This is a good barbershop. Nice Atmosphere. Everyone is nice, but Eduardo is the Best.
They always give my son a good cut. Each barber has their own talent
Howard does the best scissor cutting in the state
Great haircut. First time there and the guy gave me a great fade and a sharp shape up.
Rafael is a true gentleman. He understands how to personalize your haircut to your type of hair and is extremely precise in his technique. I've been to salons where I spend over a hundred dollars and they couldn't give me what Rafael did. I cannot speak highly enough of him.
Friendly and enjoyed my haircut, I would go back again.
Simon is my barber every time and it is a unique and wonderful experience when I go. It is my favorite barbershop and I love coming here! Highly recommend!!!
I've been coming here for a year and a half and it's the best haircut I've had. It consistently looks good and often I can schedule just a day or two in advance.
My regular place. Best cuts of my life. And very affordable on top of that.
Price List
Haircut Services
Long hair cut or scissor cut
$45-70
Razor Services
Beard trim & shape-up
$25
Beard trim, shape up & shave
$55
Signature shave & face massage
$49
Shape-up & clean-up (for hairline)
$21
Rafael's Barbershop Vintage
Modern men want to look attractive and well-groomed no less than the representatives of the charming half of humanity. One of the main conditions for this is the right choice of a men's barber. Rafael's Barbershop vintage will provide impeccable style and exciting leisure for courageous fashionistas! The institution employs high-class specialists from New York and Manhattan, performing the most relevant haircuts and helping to create a unique image.
A visit to the barbershop gives a 100% guarantee of a stylish look and unforgettable emotions. Of course, the price of services will be an order of magnitude higher than in a regular barber, but the level will certainly impress you.
How barbershops originated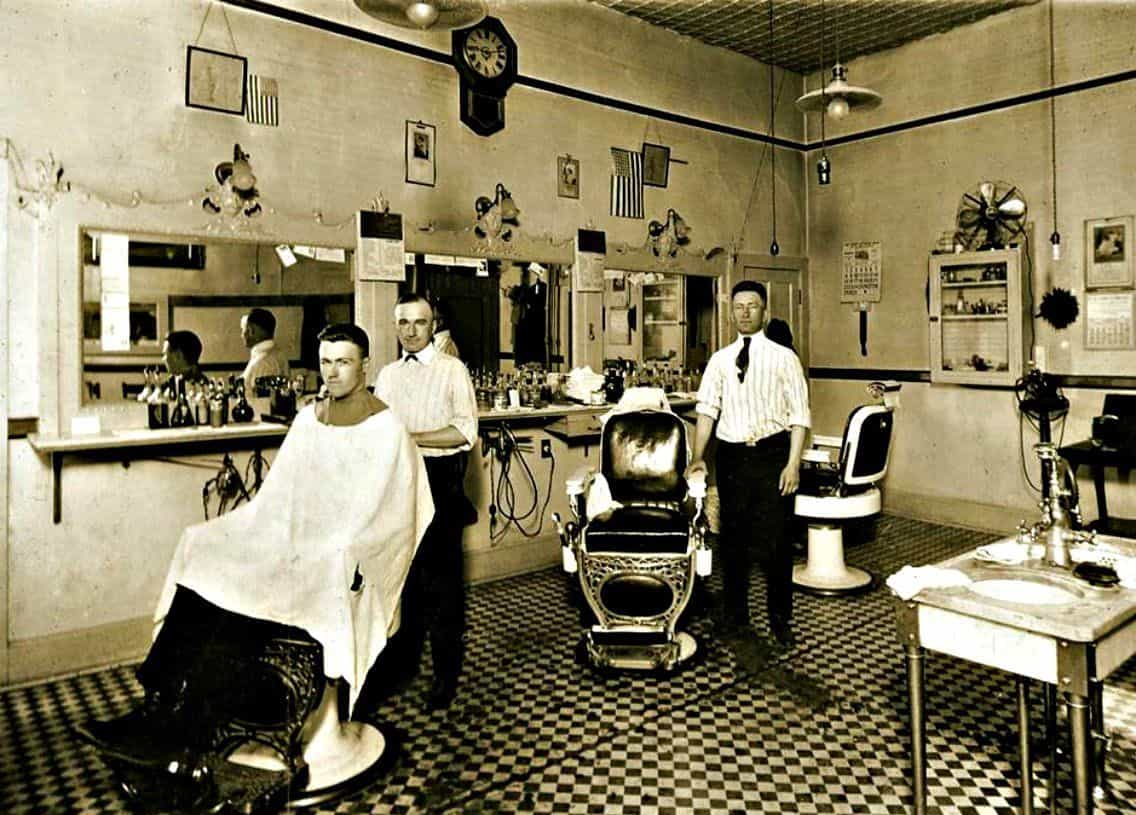 A barbershop is considered a territory where a man can calmly put himself in order without being distracted by a female assessment and gossip. The attendants are creative representatives of the strong half. Barbershop is visited not only for a new haircut and a professional shave, but also for moral relaxation, making useful acquaintances, and so on. Since when have such salons gained popularity? What is the history of their origin? More on this is below.
The craft of barbering has been around since ancient times. Some of the first ancient examples of razors that are known today date back to the period of ancient Egyptian civilization. In those days, no one had yet heard of such a profession; priests and ancient healers acted as barbers.
The first mention of barbers appeared in ancient Greece. Establishments were simultaneously considered men's clubs, as women's hairstyles at that time were done at home. Men visited such salons to cut their hair, trim their beards, and curl their hair. In parallel, secular conversations were conducted.
Under the rule of Alexander the Great, for security reasons, soldiers were forbidden to wear beards. Over time, the fashion trend even touched the commoners, which only added to the popularity of barbers.
A little later, the Romans also succumbed to this fashion. Going to the hairdressing center in the morning to tonsor (barber), in addition to inducing beauty, one could find out the latest news and gossip.
In ancient times, it was the rulers who were trendsetters. If the head of state had a clean-shaven face, the common people also shaved off their beards and vice versa.
The first barber organization, the Worshipful Company of Barbers, was founded by Richard le Barbour in London in 1308. By the way, the institution is popular to this day. Initially, barbers also acted as cosmetologists. Their duties included cleaning the ears, and face, and removal of boils and massages. Surgical services could also be obtained in institutions.
This continued until the 18th century. Later, doctors and barbers separated from each other, and with the emerging fashion for wigs, salons fell into decline altogether. Barbershops gained their former popularity at the end of the 19th century, once again turning into men's leisure clubs. To this day, there is a trend of growth in the development of fashion establishments.
Interior features and atmosphere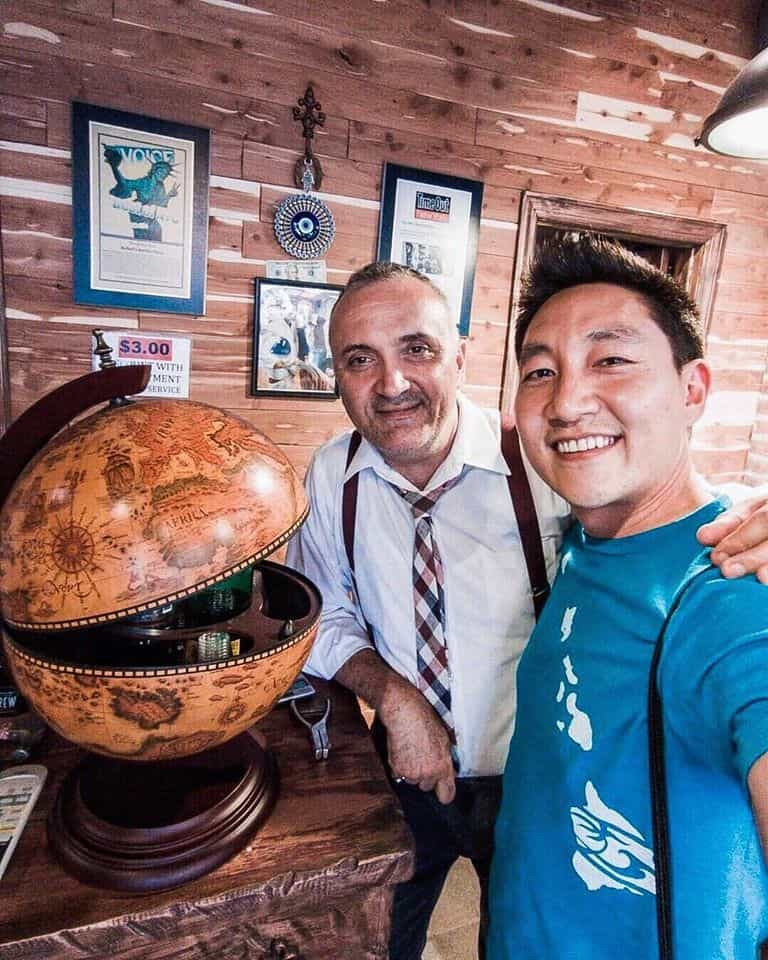 Men note that a special, unique friendly atmosphere reigns in Rafael's Barbershop vintage. In addition to the quality services of real professionals in their field, the client is charged with positive emotions, makes interesting acquaintances, and, of course, acquires a unique image. This is how popular establishments differ from the usual hairdressing salons.
The interior of Rafael's Barbershop vintage is dominated by a purely masculine atmosphere, which initially sets the client up for relaxation and communication. Everything is thought out to the smallest detail: minimalistic (sometimes even brutal) vintage style, laconic furniture without overloading intricate elements, stylish images of masters, pleasant music, and a special aroma. Magical musical compositions set a great mood for both visitors and employees. And what could be better than a master tuned to creative ideas? The atmosphere is natural, everything is in its place.
Any little thing disposes the client to rest:
the image of the master;
pedestal design;
upholstery of upholstered furniture;
mirror configuration, etc.
The emotional "climate" is supported by a friendly well-coordinated team of specialists who enjoy their work. Each client will undoubtedly find a barber close in spirit with whom you can discuss hobbies and other topics. Before starting the procedure, the client is offered tea, coffee, and stronger drinks, because in the men's club there are no pressure limits and sharp restrictions.
By the way, in Rafael's Barbershop vintage, the client is always addressed by name, which shows a special attitude and importance.
A good master will always attract a client with professional qualities, namely:
we take into account the wishes of the client regarding the image;
visual assessment of hair type, face shape, hair type, and individual style;
willingness to offer several style directions for the client's choice.
Our barbers feel their clients subtly, which increases their popularity day by day. An appointment with Rafael's Barbershop vintage specialists is scheduled for weeks, which is not surprising: respectable men do not need unsuccessful experiments and prefer to trust their appearance to professionals. Often, a barber is perceived as an old friend with whom you can discuss any topic.
What services are provided at Rafael's Barbershop vintage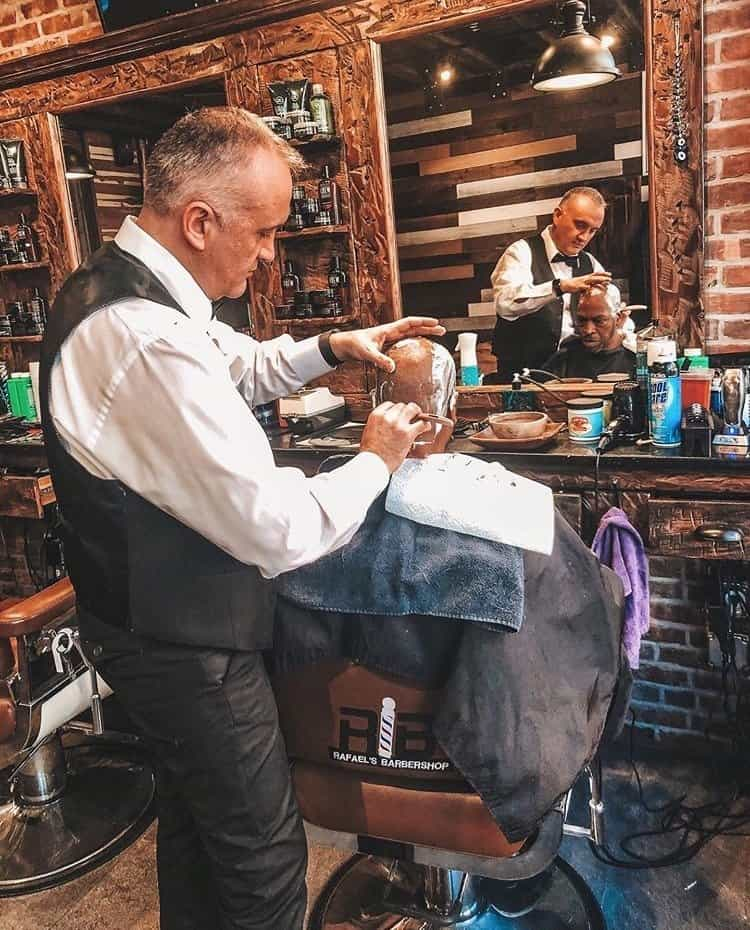 Universal barbershops with an abundance of talking women will appeal to few men. It is for comfortable feelings and the creation of a unique image that representatives of the courageous half of humanity go to Rafael's Barbershop vintage. Here you can trust an experienced master who will translate the wishes of the visitor into reality or offer his vision of creating an image. Favored by men, Rafael's Barbershop vintage provides the following services:
washing and styling hair;
trendy haircuts;
head shaving;
hairstyle correction;
steaming the skin of the face before procedures;
royal shave (classic straight razor);
shaving with massage;
haircut, mustache, and beard styling;
hair care advice.
Experienced barbers are always up to date with the latest trends. Rafael's Barbershop vintage specialists regularly improve their skills by attending courses and training. The master performs his work with the best tools and uses professional cosmetics. When creating a perfect look, all the wishes of the client are taken into account, as well as the features of the shape of the face and physique. Unlike an ordinary barber, you will not see work "on the conveyor" here, the main task of a specialist is a stylish and satisfied client.
If you decide to create a unique image, start by visiting a barbershop! What can the client expect, except for improving the appearance? Of course, discuss the news about finance or sports, while enjoying a cup of coffee or a strong drink. If you wish, you can make new acquaintances, find like-minded people, meet business partners, and so on.
Popular men's haircuts 2022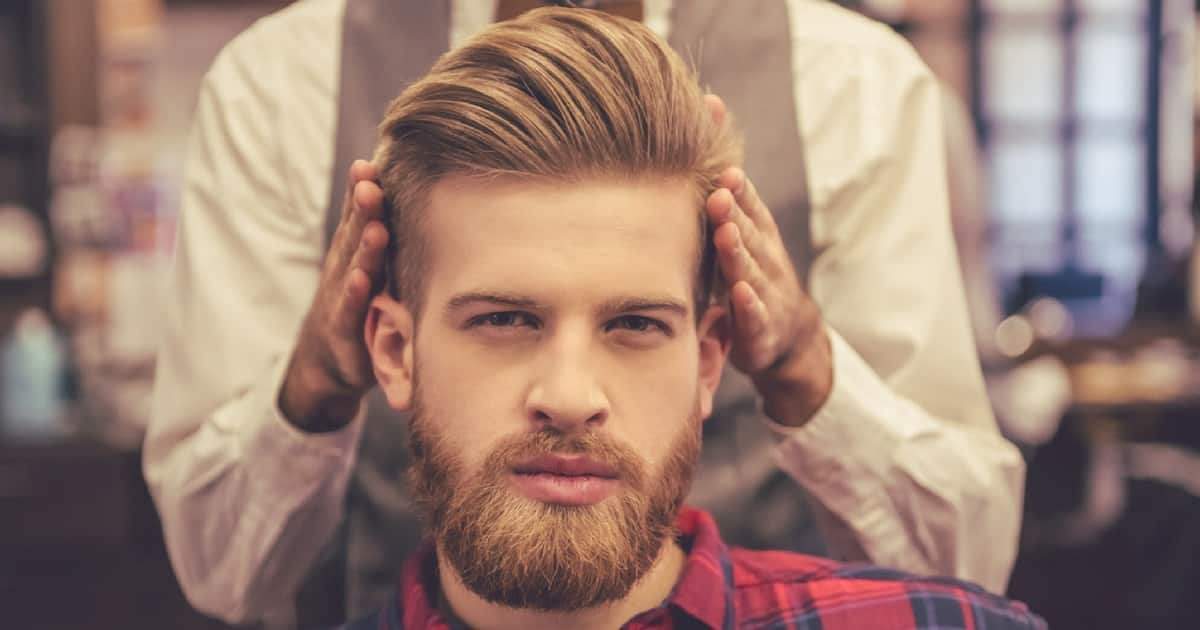 Rafael's Barbershop vintage is a trendy barbershop for men that offers the client a stylish haircut and shave. Real professionals in their field will help you decide on the image. What men's hairstyles in the barbershop are in trend in 2022? More on this below:
The best short men's haircuts. Barber will offer you stylish types of men's haircuts: British, side part (for conservative men who prefer business style), undercut (great for curly hair), crop (for young creative guys, hipsters, and so on).
Top creative medium men's haircuts in the barbershop. The average length is in trend today, so you should not limit yourself to classic hairstyles: Canadian (one of the most popular), pompadour (impressive crown length, while the back of the head and temples are shortened), quiff (an ideal choice for curly young men with medium hair length), flat top (popular among athletes and dudes).
Stylish haircuts for long hair. Isn't she alone, you ask? Consider the options: spectacular top knot haircut (long hair at the crown, temples, and nape shaved, popular among bikers, models, rock musicians, and people with creative thinking), cascade (gives volume to thin hair), bob (classic option for long hair).
Rafael's Barbershop vintage client always stands out with stylish hairstyles and trendy styling. This also applies to beards and mustaches. An experienced specialist can do vintage and modern haircuts. An ordinary barber does not have a sufficient technique for performing such work:
straight razor edging;
using a bangs roller;
fade technique (gradually disappearing length from crown to nape, temples);
parting shave;
using a hair dryer to lift hair and other tricks.
An experienced barber takes into account that the haircut should not only be in trend but also fit the lifestyle of the client. Master Rafael's Barbershop vintage will emphasize and skillfully complement your image. In the final version, you will get a harmonious combination of hairstyles with clothes and individual preferences. No barber will be able to guess such a line.
Barber service is available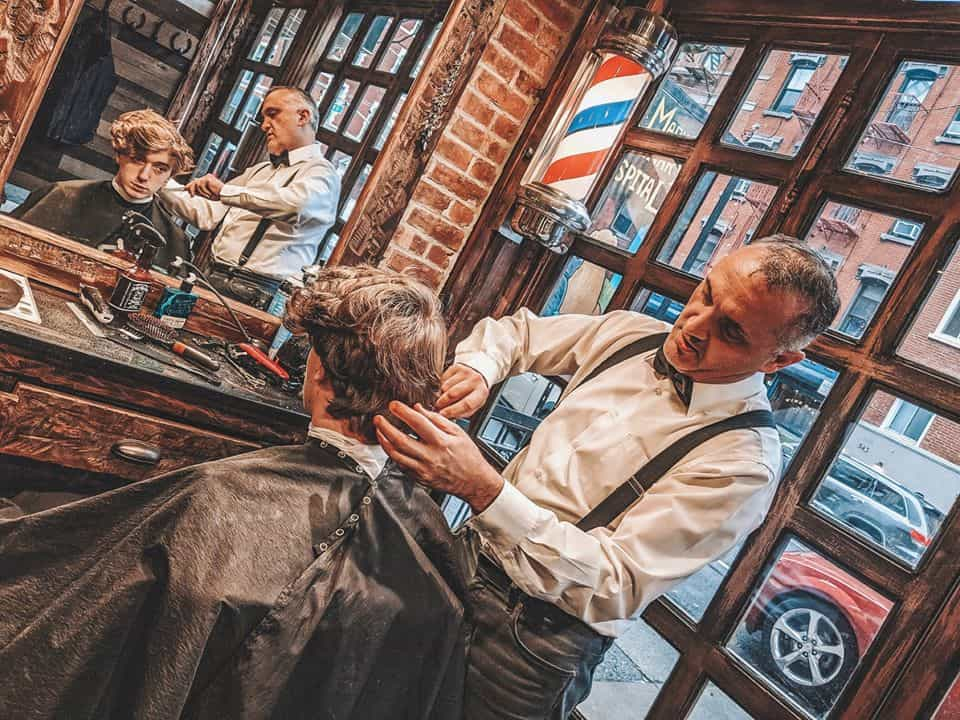 Rafael's Barbershop vintage is an exclusively male barbershop. The main difference from the usual barbershop is not only the list of services provided but also the design of the premises in a special loft or vintage style, the provision of professional advice, and the opportunity to relax from the daily hustle and bustle. This is a kind of club of male interests. The client can watch the news, a football match, drink a cup of strong drink, and discuss current issues with the barber or other visitors.
The benefits of Rafael's Barbershop vintage are as follows:
perfect comfort zone;
use of male cosmetics;
shaving with a dangerous razor;
creation of an individual image;
high professionalism of masters;
the presence of a bar.
Forget about going to a standard barbershop with a bright interior, an incompetent generalist, sidelong female glances, and a sense of hopelessness. Now a specialized Rafael's Barbershop vintage with high-class creative specialists, brutal design, and nice bonuses is available for men. You can find our contacts on the main page of the site.
Masters will support any conversation or they will easily start a conversation. During the haircut, you will receive a detailed consultation on the condition of the hair and professional advice to improve its condition. Performing men's haircuts in a barbershop, the master does not distance himself from clients. Each client feels comfortable and relaxed. Soft leather armchairs and free coffee, cognac, or whiskey contribute to a good mood. In addition to chatting about interests in the club, you can read the latest press, play Sony PlayStation, or simply surf the Internet using Wi-Fi.
Having applied unique knowledge and many years of practice, specialists will perform any haircut with the greatest accuracy. This is also influenced by the presence of a set of high-quality tools and the use of a filigree technique for performing fades and edging. Not a single high-class master from the best barber can compare with the professionalism of a creative barber from Rafael's Barbershop vintage!
FAQ
Where can i find barbershop in Manhattan

If you want to get the perfect haircut from the best NYC barbershop – we are waiting for you to visit Rafael's barbershop at 350 E 9TH ST, New York, NY 10003
What are the prices for a haircut?

Haircuts start at $33 and go up from there for regular mens haircut
How do i book an appointment?