Anyone who has ever tried to grow a beard knows about this problem. Before you begin to growing hair on your face, you probably looked at different photos of cool, bearded guys with thick and long beards. But when it came to own beard - something started to go not according to plan. For various reasons, some men may face such a problem as an unevenly growing beard. Today at Rafael's Barbershop Blog, we'll talk about why this happens and how counter that.
Causes of uneven beard growth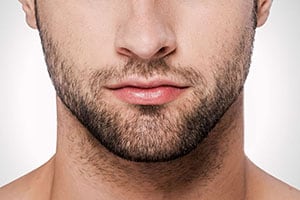 Often, the causes of uneven beard growth may be different. For example:
Hereditary predisposition.
Damage to the hair follicles: burn marks, scars and other mechanical damage.
Lack of vitamins in the body.
Frequent stress, unstable emotional state, depression. These factors often cause baldness in both of the head and of the beard.
The effects of long-term use of certain medications.
Lack of proper care, improper shaving.
A lack of testosterone in the body often negatively affects the appearance of the beard.
Age features. The beard becomes thick and uniform not immediately. During puberty and some time after the problem with the growth of the beard and mustache is normal.
Such seemingly harmless trifles can permanently deprive you of a thick and long beard. Therefore, before you start growing a beard - be sure to reconsider your lifestyle.
IMPORTANT: work only with professionals in barber shop who will always tell you how to properly and qualitatively change your look.
What to do if a beard grows unevenly
Do not rush to get upset if your beard grows unevenly, because everything can be fixed! But to stabilize the growth of the beard will have to make some efforts:
Care for the beard: timely grooming, high-quality products.
Change your lifestyle: take vitamins, eat a balanced and proper food, start to play sports.
Solve your health problems that could trigger hair growth problems.
Stick to these simple rules and you will soon be able to enjoy a luxurious, thick beard.