Many people think that  men's haircut is just a temporary fashion trend that occurs spontaneously and is doomed to suddenly become forgotten. But in reality, everything is different. "History repeating" - is sung in the song of the legendary group Propeller heads, and these words contain great truth. Everything new is well-forgotten old, so today we'll talk about Top Knot haircut, which has deep historical roots, but has gained a fresh breath and relevance today. Contrary to irony, the top knot is considered one of the most popular among men's haircuts in barber shop.
What is a Top Knot?
Obviously, Top Knot is a variation of the Man Bun hairstyle, which has been known since ancient times and, in fact, is a simple knot of strands of long hair on the crown. The brave-loving husbands of Ancient Greece for a very long time preferred simple and restrained short haircuts.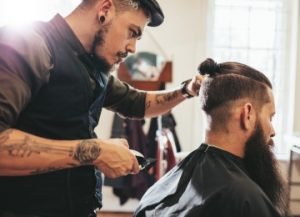 But later, the northern conquerors invaded their land and brought with them fashion for long hair tied in a bun from above. A more familiar Top Knot hairstyle for us, already with shaved temples, we can see in the images of Japanese samurai. The fashion for this haircut was due to its high practicality and subtle aesthetics.
Some history about a Top Knot
In the XXI century, Top Knot became popular for the same reasons: short-cut whiskeys make you feel comfortable and help to adjust the face contour, making it more elongated. But the main thing in this haircut is that its owners always look very freedom-loving and extraordinary. Men with indomitable temperament and powerful creative energy can successfully emphasize these qualities of Top Knot hairstyle.
WHOM TOP KNOT HAIR WILL FIT
This haircut is very suitable for people with a round and oval face shape. But by the way, with the right combination with a well-groomed beard, Top Knot can suit any man. The exception will be only the owners of thin and elongated faces - the "bunch from above" will only emphasize the length of the cheekbones and forehead in the most disadvantageous way.
In addition, when planning to grow hair for Top Knot, you need to make sure that your hair type is acceptable enough for this hairstyle. Best samurai haircut is suitable for people with straight or not too curly hair. Sweeping curls are best aligned. Also, your hair should be thick enough to produce the desired volume effect. Rare strands can be visually made voluminous using a special shampoo and properly performed styling.