In a male look, a correctly selected hairstyle means a successful result in any undertaking.
LITTLE FACTS FROM THE HISTORY OF MEN'S HAIRCUTS
Knives and sharpened seashells are no used anymore, and this is very good: haircuts long before our era were dangerous and quite untidy. Smoothing ridiculously cropped hair, men smoothed it with animal fat, and this can not be compared with modern grooming procedures, professional tools, and technologies that exist in our time.
Closer to our time, special devices for haircuts began to appear: scissors and hair clippers. Neat, lush styling with grease and wax also gained popularity. It was easy device: the clipper was two fast-moving blades hidden in a plastic case. Styling products were made using beeswax, with the addition of water and oils.
Interesting fact: From the 1920s to the 90s, haircut fashion changed almost every 10 years, focusing on people that were popular at that time: Cary Grant had had a magnificent greasy hairstyle in the 30s, Elvis Presley made famous haircut Pompadour in the 50s, in the 70s haircuts like "the Beatles", and a little later the heyday of the Hippy movement - men's long hair did not need special styling.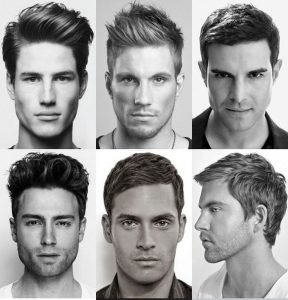 MEN'S HAIRCUTS NOWADAY
We can say that little has changed until our century: barbers also use scissors and clippers for haircuts, slightly changing the form and mechanism. And for the styling also various products based on clay, water, petroleum jelly, oils, and wax. The only difference is the quantity of these tools, the quality and the choice of the right one. For this, there is the profession of "barber". All of these new technologies, inventions for haircuts and styling products are a product of the fashion industry, and more precisely, hairstyles.
It's so good that our technology and level of service have moved so far: men can go to barber shops, where professionals can determine in one moment which hairstyle is right for you. They will choose the style according to individual features and do the styling, telling how and what is better to use with your hair type. Based on a combination of some classic haircuts, you get your own individual style, suitable only for you. And you can groom it every day in different ways. For example, the classic offer of barbers for owners of long hair: Top Knot (Knot) in combination with Undercut (short or completely shaved temples) will give a stylish look - Top Knot Undercut. At the same time, this symbiosis can be in different ways. How? Any barber Rafaels Barber shop Vintage will tell about this and not only in detail and with useful recommendations.